In Loving Memory of
The Rev. Elmer A. Dech
February 27, 1912 -- December 17, 1997

The Rev. Elmer A. Dech was a former pastor of St. Paul's UCC, having had served for 28 years (from November 1946 to November 1974). Following his retirement he was honored by the congregation as "Pastor Emeritus." He served as the third pastor of St. Paul's UCC.
The Rev. Elmer Aaron Dech, 85, of 247 W. Penn Ave., Robesonia, Berks County, a United Church of Christ minister, died Wednesday, December 17, 1997 in Phoebe Berks Health Care Center, Wernersville.
Rev. Dech was the husband of Mabel H. (Renner) Dech.
He was born on February 27, 1912, in Northampton County, near the St. Peter's (Snyder's) Church where he was baptized, confirmed, married to Mabel H. Renner, ordained into the Christan ministry, and where their three children were also baptized: Joyce R., Elmer R., and Merle R.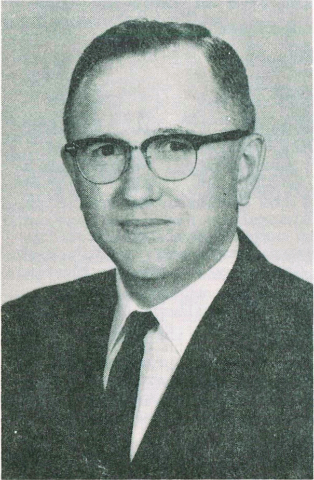 He served the Robesonia-Wernersville charge, which included St. Paul's United Church of Christ, Robesonia, and First UCC, Wernersville, from 1963 until being named Pastor Emeritus in 1974.
Previously, he pastored the three point Robesonia charge from 1946-1963, consisting of: St. Paul's UCC, Robesonia; St. John's (Host) UCC, Bernville; and North Heidelberg UCC. Prior to that he served the Union Town Charge, 1941-1946; and Pavia Blue Knob Charge, Bedford County, 1939-1941.
The Rev. Dech also was a supply pastor for 12 years. He served North Heidelberg UCC as their stated supply pastor from November 1974 to March 31, 1978.
As of 1980, the pastoral ministrations to date number 688 baptisms, 770 confirmations, 289 weddings, and 643 funerals.
A 1935 graduate of Muhlenberg College, he attended Moravian Seminary, Bethlehem, for two years and received his bachelor of divinity degree from Lancaster Theological Seminary in 1938. He earned his master's degree from Temple University in 1952.
He was ordained in St. Peter's UCC (Snyder's Church), Northampton, in 1938.
Born in Northampton, he was a son of the late Herbert A. and Jennie M. (Koch) Dech.
He was former president of the Reading Berks UCC Ministerium and a former board member of the Phoebe-Devitt Homes, Allentown.
Survivors: Wife: Mabel H. (Renner) Dech; sons: Dr. Elmer R. Dech of Rindge, N.H., and the Rev. Merle R. Dech of Shoemakersville; daughter, Joyce R. (Dech) Porter, wife of Stewart R. Porter of Rochester, N.Y.; brother Paul Dech of Northampton; sister, Mildred (Dech) Laubach of Easton, eight grandchildren and 13 great-grandchildren.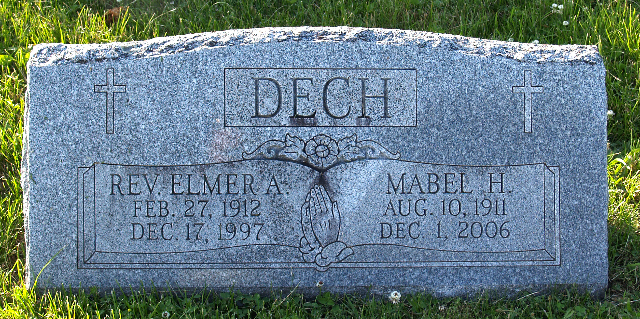 Services: 11:00 a.m. Monday, St. Paul's UCC, Robesonia.
Visitation: Call 7:00-8:30 p.m. Sunday, Lamm & Wittman Funeral Home, Wernersville.
Burial: St Peters UCC Church Cemetery; Northampton County, PA.
Contributions: St. Paul's UCC; First UCC or Phoebe Berks Health Care Center.