In Loving Memory of
Maria Rebecca Leinbach
June 16, 1840 -- January 21, 1917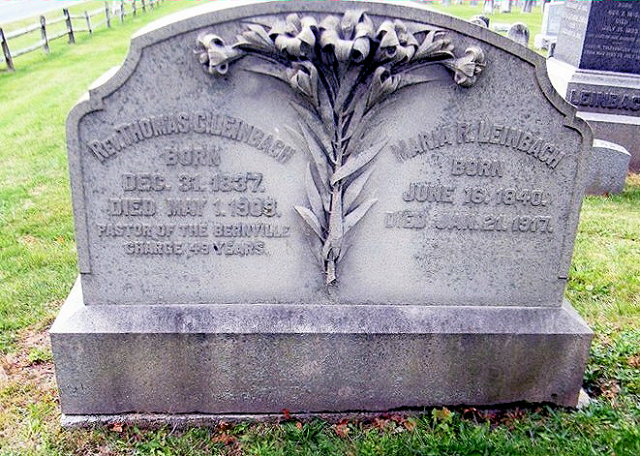 Maria Rebecca (Seibert) Leinbach, our sister in faith, and member of St. Paul's Reformed Church passed away on January 21, 1917.
She was the wife of the Rev. Thomas C. Leinbach. They were married on September 1, 1860. She is the late John and Elizabeth (Seidel) Seibert, of Marion Township, Berks County. They established their home in Womelsdorf, which became known throughout the Church for its gracious hospitality. Eleven children were born to them, of whom seven died in childhood. She is survived by four sons: Rev. Paul Seibert Leinbach (1895; Seminary, 1898), of Easton, Pa.; Rev. Edwin Samuel Leinbach (1898 n.; Seminary, 1903), of Womelsdorf; Oliver Eugene Leinbach, of Reading, Pa.; and Rev. Elmer Garfield Leinbach (1903; Seminary, 1906), of Schuylkill Haven, Pa. She was predeceased by her husband, who passed on May 1, 1909.
Burial: Tulpehocken Trinity UCC Cemetery; Millardsville, Lebanon County, PA
At this time, unfortunately no formal obituary has been located to add to this page. If you happen to have additional information to add to this page, please contact the church office at office@sprucc.org.