In Loving Memory of
Doris A. "Boozie" (Bourguignon) Henning
June 15, 1932 -- February 12, 2016

Our sister in faith, Doris Ann "Boozie" (Bourguignon) Henning, age 83, of South Heidelberg Township, a member of St. Paul's UCC in Robesonia, passed away on Friday, February 12, 2016, at Phoebe Berks Health Care Center in Wernersville, PA.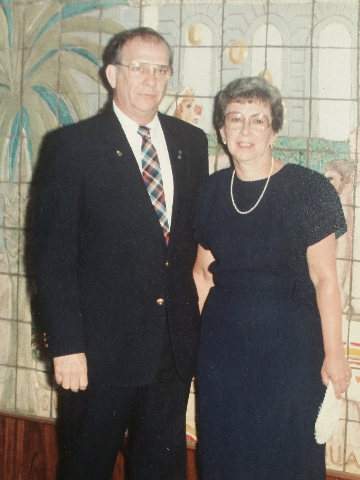 She married the Rev. Dr. Harold A. Henning on June 13, 1953 at Christ Church UCC in Bath, PA. He preceded her in death on April 15, 2015.

Born in Northampton, PA , on June 15, 1932, she was the daughter of the late Lillian E. (Leigh) and Richard A. Bourguignon.
Doris is survived by a daughter, Elizabeth Henning Ravesteijn, of Arlington, VA; two sons, Jonathan L. Henning, husband of Robin (Smith), of Robesonia; and Timothy P. Henning, Sr., husband of Crystal (Cote), of Myerstown; six grandchildren, Joshua Henning, Dr. Justin Henning, Timothy Henning, Jr., Jordan Henning, Maaike Ravesteijn, and Sofie Ravesteijn; and five great grandchildren, Emily, Sydney, Hannah, Hunter, and Mateo.

Doris was a 1950 graduate of Nazareth High School. She was a former 4-H leader, Girl Scout leader, and also a Camp Fire Girl leader. Her passion and enjoyments were knitting and crocheting, sewing, and many other crafts. She and Harold enjoyed many years of camping adventures, and especially treasured time spent with her grandchildren and great grandchildren.
Doris was a bookkeeper and a secretary at Bethany Children's Home in Womelsdorf for more than 25 years, retiring on June 15, 1994.

A Memorial Service will be held on Saturday, February 27 at 2:00pm, at St. Paul's United Church of Christ in Robesonia, with the Rev. Dr. Benjamin Motz officiating. A visitation with the family will be held starting at 1:00pm, ahead of the memorial service, at St. Paul's UCC.

Interment of Doris and the Rev. Dr. Henning will take place at Green Mountain Cemetery in Bath, PA, at a later date.

Lamm & Witman Funeral Home, Inc., 243 W. Penn Ave., Wernersville, PA is handling arrangements.

In lieu of flowers, memorial contributions may be made to St. Paul's UCC, 301 W. Penn Ave., Robesonia, PA 19551; Christ Church UCC, 109 S. Chestnut St., Bath, PA 18014; or to Bethany Children's Home, 1863 Bethany Rd., Womelsdorf, PA 19567.
Online condolences may be made at www.lammandwitman.com
Dates & Times:

Visitation: Saturday, February 27 from 1:00pm-2:00pm,
at St. Paul's UCC, Robesonia
Memorial Service: Saturday, February 27 at 2:00pm,
at St. Paul's UCC, Robesonia
Internment: date is to be determined
at Green Mountain Cemetery in Bath, PA
Prayers of Remembrance: Sunday, March 6 during the 10:25am Worship Serivce,
at St. Paul's UCC, Robesonia