In Loving Memory of
William W. Walker
October 4, 1932 -- December 24, 2017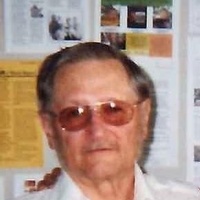 Our brother in faith, William W. Walker, 85 years old, of Robesonia, a member of St. Paul's United Church of Christ in Robesonia, passed away Sunday, December 24, 2017 at Tremont Nursing Home.
Born in Wyomissing, he was a son of the late William H. and Mary S. (Smith) Walker.
He was the husband of Sara J. (Miller) Walker.
In addition to his wife, he is survived by four children, William W. Walker, II, husband of Tina M., Fredericksburg; Norma Jean, wife of Frank M. Keller, Pine Grove; Errol L. Walker, husband of Bonnie L., Pine Grove; and Lori A., wife of Roy Eisenhauer, Rexmont; a brother, Earl Walker, Lebanon; two sisters, Elsie Beall, VA, and Anna Mae Verry, Myerstown; 10 grandchildren; and eight great grandchildren. He was preceded in death by four brothers, Woodrow, Harold, Paul, and Norman.
He was an Army Veteran, having served during the Korean War.
He retired in 1994 from the former Hoffman's Industry, Sinking Spring.
He was a member of Robesonia Rod and Gun Club.
Services will be held at 10:00am, Friday, December 29, 2017 at Lamm & Witman Funeral Home, 243 West Penn Ave., Wernersville with the Rev. Dr. Benjamin Motz officiating. A viewing will be held from 9:00-10:00am, Friday, at the funeral home. Burial will be in Pleasant View Cemetery, Sinking Spring.
Online condolences may be made at www.lammandwitman.com.
Dates & Times:

Viewing: Friday, December 29 from 9:00-10:00am at Lamm and Witman, Wernersville
Funeral Service: Friday, December 29 at 10:00am at Lamm and Witman, Wernersville
Burial: Friday, December 29 at Pleasant View Cemetery, Sinking Spring
Prayers of Remembrance: Sunday, January 7 during the 10:25am Worship Serivce,
at St. Paul's UCC, Robesonia