In Loving Memory of
Kathryn E. Snyder
December 7, 1924 -- May 12, 2014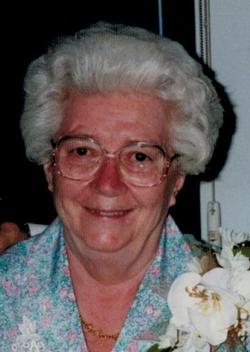 Our sister in faith, Kathryn E. (Ahrens) Snyder, age 89, a member of St. Paul's UCC, Robesonia, formerly of Robesonia, passed away on Monday, May 12, 2014 at Phoebe Berks Health Care Center in Wernersville.
Her husband, Willis P. Snyder, Jr. died March 21, 2009. They enjoyed 61 years of marriage, 56 of which were spent living together by Furnace Creek in Robesonia.
She is survived by three sons, Sterling D. Snyder husband of Ann, Riverview Park; David B. Snyder husband of Miriam, Robesonia; and Brian A. Snyder husband of Susan, Ruscombmanor Twp.; Three Daughters, Marilyn R. wife of Victor Manuele, Chadds Ford; Eileen L. wife of Kevin Mills, Douglasville; and Phyllis A. Snyder, Eagleville; a sister, Wanda M. Heydt, a resident of Country Meadows; ten grandchildren; and six great grandchildren.
Born in Molltown, Maidencreek Twp., on December 7, 1924, she was the daughter of the late Arthur H. and Eva A. (Adams) Ahrens.
Kathryn was a 1942 graduate of Kutztown High School.
She and her late husband operated Snyder's Piano Service for 50 years. From 1942 to 1947 she was a Clerk at the former Schaeffer's Dry Goods Store in Reading.
She was a life member and former Treasurer of the National Auxiliary of Piano Technicians and former President and Treasurer of the Reading and Lancaster Piano Technicians Guild Auxiliary. She was also a former Campfire Girls Leader in Robesonia and Blandon.
Services will be held on Saturday, May 17 at 10:30am in St. Paul's UCC, 301 W. Penn Ave., Robesonia, with the Rev. Dr. Benjamin Motz officiating. Interment will follow at Pleasant View Cemetery.
Friends are invited to call Saturday from 9:30 to 10:30am at St. Paul's UCC.
In lieu of flowers memorial contributions may be made to the Alzheimer's Association, 399 Market St., Suite 102, Philadelphia, PA 19106 or at www.alzfdn.org.
Dates & Times:

Viewing & Visitation: Saturday, May 17 from 9:30-10:30 a.m.,
at St. Paul's UCC, Robesonia
Funeral: Saturday, May 17 at 10:30 a.m.,
at St. Paul's UCC, Robesonia
Internment: Saturday, May 17 following the Funeral Service,
at the Pleasant View Cemetery, Spring Township
Prayers of Remembrance: Sunday, May 18
during the 10:30 a.m. Worship Serivce,
at St. Paul's UCC, Robesonia